Seria Jewel Secrets została wydana w 1986 roku. Moim zdaniem jest to jedna z bardziej kultowych wydań lalek w historii Mattel'a. W skład owej serii wchodziło aż sześć lalek Barbie i Ken, Barbie i Ken w wersji AA, Whitney i Skipper.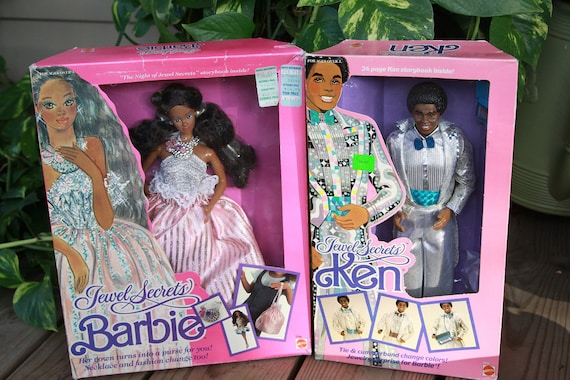 Znalazłam skany starego katalogu w sieci i dowiedziałam się że firma wydała dedykowaną biżuterię dla małej właścicielki lalki oraz serię strojów dla Barbie i jej przyjaciół.
Na YouTube możemy również zobaczyć reklamę samej lalki.
Cała seria bardzo mi się podoba lalki są wyjątkowo piękne, jednak sukienka o wykroju worka na buty dla przedszkolaka to istny niewypał. Nie znoszę tej części garderoby i lalka raczej u mnie sie w niej nie pokazuje. Mniej więcej wygląda to tak.
Cieszę się że lalka trafiła do mnie praktyczne kompletna, nawet zachował się jej wyjątkowy naszyjnik.